If you've ever considered an offshore development partnership, you know that there are a lot of options to choose from. In fact, India alone makes up 55% of the global IT industry.
With so many talented firms to decide between, it can be tough to know what separates the good from the great. That's where Kreeti Technologies comes in.
Kreeti's technical team has expertise in niche technologies likes Ruby on Rails, Elixir, Phoenix, Kotlin, ReactJs & React Native etc.
Since we opened our doors in 2006, we've been working hard to deliver solutions that stand out from the crowd. That means we don't just provide top-rated design and development services — we go above and beyond for our customers.
We tailor each engagement to all of our unique clients and their needs. The result? We've received rave reviews from satisfied customers around the world.
For instance, we recently received feedback on Clutch, a hub for B2B ratings and reviews. In the engagement, we were responsible for ERP development for an international trading business.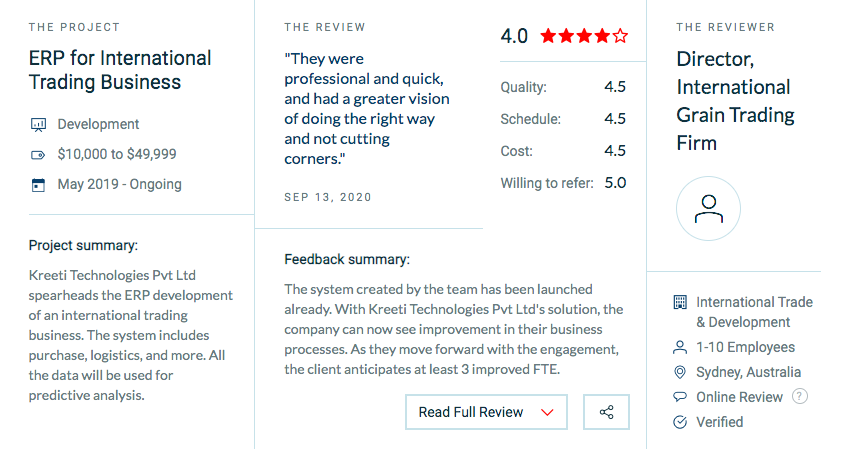 Our client was thrilled with our system and the impact it had on their internal efficiency.
"We have gone live with our system and can see that we currently have saved two man days per week. This equates to one full time employee. By the time we finish the phase 2 we anticipate richer communication and save at least three FTE." — Director, International Grain Trading Firm
In another project highlighted on the platform, we provided development services to a SaaS company. Our team's professionalism and reliability made for a smooth and successful engagement.
"I was impressed with their deliveries and the ability to fix bugs whenever they occurred. Over time, I was confident that if there is any issue whatsoever, the team at Kreeti will take care of it. This is a big relief for any team leader. In short, it means I can sleep well." — Founder & CEO, IndustryPrime
You can also find us ranked on The Manifest, another platform in the B2B space that includes lists of leading agencies and showcases projects. Check us out!
If you like what you see, feel free to reach out to us at any time for your next software development needs.